Biography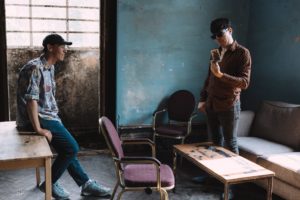 Pleasure Island aka Liverpool-based duo Sean Ekins (guitar, vocals) and Sam Pierpoint (drums) make kinetic, cerebral indie-rock for bodies and minds in these post-Brexit, post-Covid, whatever's-next times.
New single 'Shallow Grave' is their first proper post-pandemic release, consolidating their knack for infectious hooks and deadpan wit as evinced on 2020's 'Help Me NHS' and 'Priory' (2021), both recorded and released in the shadow of lockdown.
This Pleasure Island story stretches further in time and space than what might initially be assumed: to 2008 and one of the world's most remote cities – Perth, Western Australia. Here Ekins – a UK ex-pat former miner – founded The Spitfires, a garage-rock trio who blasted onto the local scene when a freak accident during their launch gig after-party blew up half their house. 
Undaunted by what the superstitious may have taken as a bad omen, The Spitfires' flight path was sent soaring when their raw and wry takes on the absurdity of modern life earned 
support slots with kindred spirits The Cribs and award-winning Melbourne rockers British India. 
Following 2012's debut album 'Songs From The Debt Generation', The Spitfires attracted rotation across Australia on RTRFM, 4ZZZ, spot play on FBi and RRR and national exposure via Triple J radio and television broadcaster ABC. 
Though things were looking up for the band from Perth, disillusionment with the local scene saw them relocate to the other side of Australia and the bright lights of Sydney from where they took 'Songs From The Debt Generation' across the vast country as well as treating fans in Japan to the punked-up exhilaration of their live shows. This was a band, after all, whose stage show once included the onstage decapitation of an effigy of Margaret Thatcher – the 1980s PM who ordered the decimation of the UK mining industry and oversaw what many saw as a de facto class war in the country.
After two years of intense momentum on the other side of the planet, Ekins returned home to Liverpool in 2014 with the intention of taking The Spitfires around the now-beleaguered island. The UK of the mid-2010s was harsher, more divided and confusing than the country he'd left a decade before. Something had to give. For a start, The Spitfires had suffered a curse common to bands: a seemingly endless succession of drummers. A total of thirteen sticks-bearers had passed through their ranks, including two recruited from the audience during the same show.
Having met Sam Pierpoint – an exceptional drummer whose chops make him of the best drummers in England's north west, according to platinum-selling producer Al Groves – Ekins was ready for the rock n roll fight again, regrouping with Pierpoint as Pleasure Island and making their live debut at Liverpool's Smithdon Road Festival in 2018.
Pleasure Island's thrilling, volatile mix of punchy indie-punk, crackling guitar riffs and acerbic, deadpan poetics set to chart-ready melodies soon earned the duo a steady stream of festival appearances and live appearances.
When Covid hit in 2020, Pleasure Island made their recording debuted with 'Help Me NHS', a dark stomping track which somehow echoed both the bizarre spectacle of people taking to their doorsteps and balconies to bang pots and pans in appreciation for exhausted essential workers but also how the health service's diminished networks are very literal lifelines for people in times of need and vulnerability. 
That latter quality is partly key to the compelling appeal of Ekins' songwriting; a craft which uses personal experience to reach out and comment on wider society. 'Help Me NHS' was backed with 'The Game', a wanton, psychobilly-tinged headspin inspired by a stint of thrill-seeking, breakup-numbing hook-ups and how that behaviour can intersect with the toxic entitlement and sexual predation fostered by pick-up culture. Named for the title of Neil Strauss's notorious book, it shows Ekins as a musician whose wit and acuity matches a love of melody.
In April 2021 came second single 'IRA', a slab of strident indie-rock produced by Bob Cooper at the Chairworks Studio, near Leeds. Hours after the release was announced, Pleasure Island's digital distributors said they wouldn't distribute the track, perhaps wary of service providers 'canceling' the track in the wake of the death of Prince Phillip. In 1979, the terrorist ssgroup claimed responsibility for the bombing of a yacht which killed Phillip's uncle Louis Mountbatten, his grandson and a teenage boatsman. 
Soon reworked and retitled as 'Priory', beyond metaphor the song had never had anything to do with the bombers nor the Royals; it was instead an indie floor-filler intended to raise awareness of the dire effects on peoples' lives of outmoded attitudes around mental illness.. It's been a turbulent voyage getting to Pleasure Island circa 2022. But to a duo this talented and tenacious it's simply more grist to mill. And with 'Shallow Grave' and a clutch of new songs and live dates, Ekins and Pierpoint are standing on the prow, eyes squinting to the future.